The IEF Pathways to Success program is designed to give minority undergraduates, particularly first-generation college students, the network needed to thrive academically and professionally in Electrical and Computer Engineering. Pathways will guide students throughout their college career by providing academic mentorship, a variety of educational workshops, and a summer internship.
Program Benefits
Corporate Internship

Peer-to-Peer Mentoring

Professional Growth Series

Industry Mentors
Eligibility
To be eligible for an internship, students must meet the following requirements:
African American, Hispanic/Latino, American Indian/Native American, Asian/Pacific Islander
Attending a community college and planning to transfer to a four year institution for electrical or computer engineering.
Currently enrolled in an ABET accredited undergraduate electrical or computer engineering program
Key Dates
October: Enrollment opens – Now accepting internship applications
November: Internship applications close
November: Educational workshops begin
December-January: Internships confirmed
Enrollment Application
Questions or comments can be submitted to Yeimidy Lagunas at ylagunas@ecedha.org
Professional Growth Series
All program participants will receive additional education and soft skills training from subject matter experts for leadership opportunities and job readiness.
Scholar Society
Participation in IEF's Pathways to Success Scholar Society not only recognizes academic achievements but also leadership potential, both while in school and in the course of a professional career. Pathways Scholars develop leadership skills, create activities to improve faculty-student communication and collaboration and be recognized for their service in improving the ECE community through their studies and volunteer engagement.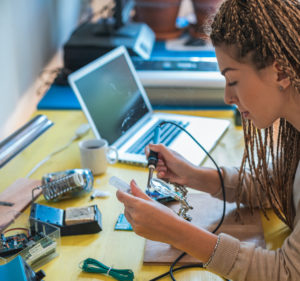 Facilitated Transition from 2-Year to 4-Year Engineering Studies
The Inclusive Engineering Consortium (IEC) aims to inspire and support the future leaders in electrical and computer engineering graduating from historically minority-serving institutions. The 2to4 Scholarship serves to help students make a seamless transition from 2-year college programs to graduating with a bachelor's degree and beyond. Eligible students may be awarded up to $10,000 in tuition, plus stipend support. Learn more about the scholarship and how to apply
.